Indian Nationals Applying for your Mexican Tourist Visa
Mexico boasts a diverse cultural legacy and breathtaking natural vistas, drawing in numerous tourists annually. For Indian citizens intending to explore Mexico for tourism, it's essential to secure both a Mexico Tourist Visa and a Tourist Card before embarking on their journey.
Within this article, we will thoroughly examine the intricacies of the Mexico Tourist Visa application procedure for Indian nationals. This knowledge will empower them to relish their trip without any concerns.
Meaning of a Mexican Tourist Visa
The Mexico Tourist Visa is a necessary travel credential for foreign nationals from India who require a visa to visit Mexico. This visa must be obtained prior to travel and grants permission for the following purposes:
Tourism
Business activities without receiving payments
Volunteer work or language studies
Visiting family and friends
It's important to note that the Mexico Tourist Visa only authorises participation in activities that do not involve paid employment or permanent residency in the country. For detailed information about long-term visas, you can refer to the official government website.
Validity Period of the Mexico Visa for Indian Citizens
The Mexican Tourist Visa holds the status of a Multiple Entry document, allowing you to enter the country multiple times for a duration of up to 180 days per entry. This visa must be utilised within 90 days from its issue date.
If you have intentions of prolonging your stay in Mexico, you must initiate an application for an extension through the Immigration Service (INM) while being present within the country.
Is a Tourist Visa Required for Mexico by Indian Citizens?
Yes, citizens of India are required to obtain a Mexican Tourist Visa prior to their travel to Mexico. India does not fall under the category of countries exempted from this visa requirement. Furthermore, Indian travellers entering Mexico through overland borders, such as from the United States, are also mandated to apply online for a Mexico Tourist Card.
It's noteworthy that even Indian minors embarking on a journey to Mexico must hold a Mexican Visa, regardless of their age. The application process for minors is similar to that for adults. Legal guardians or parents might need to furnish supplementary documents,including birth certificates, parental consent forms, and copies of their identification documents.
The online process provides comprehensive support throughout the visa application process, ensuring a seamless experience for all applicants.
Additional Insights into the Mexico Tourist Card
The Mexico Tourist Card, also known as FMM (Forma Migratoria Múltiple), is a pivotal document granting entry to Mexico for visitors arriving by land. Not classified as a visa, the FMM is a single-entry immigration form mandatory for all foreign nationals before their entry into the country.
It's worth noting that while you can also obtain the Mexico Tourist Card at the immigration checkpoint, applying for the Mexico Tourist Card - Land through our services in advance, especially if you're travelling by land, can save you time and effort.
Eligibility of a Mexican Visa to Indians
Indian citizens who wish to apply for a Mexico Tourist Visa must satisfy the following eligibility criteria:
Possession of a valid passport with a minimum validity of six months from the intended date of entry into Mexico.
Sufficient financial means to cover the expenses of the trip and sustain oneself during the stay in Mexico.
Absence of inadmissibility or prohibition from entering Mexico.
Meeting these eligibility prerequisites is crucial for obtaining a Mexico Tourist Visa seamlessly.
Application Process of a Mexican Tourist Visa
We streamline the visa application process to ensure a seamless and hassle-free experience.
Below is a breakdown of the steps to initiate your Mexico Tourist Visa application:
Step 1: Complete the online Mexican Tourist Visa application form with accurate personal information, including your name, contact details, and travel specifics. Ensuring the alignment of this information with your identity documents is essential.
Step 2: Upon finishing the Mexico Visa application form, choose from our selection of processing durations and conveniently make the payment using your credit/debit card, PayPal, or other secure payment methods.
Step 3: Expect an email from us containing a comprehensive, step-by-step guide with detailed instructions for the subsequent stages of securing your visa.
Follow the instructions outlined in the guide to compile all requisite documents, ascertain the submission location, arrange an embassy appointment, fulfil the government visa fee payment, and more. Our comprehensive guide will assist you through the entire process!
Mexican Tourist Visa Fees
The online platform offers a standard processing fee of USD $149.99, in addition to the government fee of US$60.
Furthermore, you will benefit from the following advantages:
Our experts ensure that your application adheres to all government stipulations.
You will have unlimited access to a personal expert who will guide you throughout the entire application process.
Bid farewell to the arduous and complex questions on the government website. Our application form is simplified, featuring easy-to-answer queries, and we manage the paperwork on your behalf.
Through our service, you can fill out the form at your own pace, make edits as necessary, and save your progress for future continuation.
Applying via the online platform grants you exclusive access to a comprehensive, step-by-step guide. This guide comprises valuable tips for tackling challenging questions, a comprehensive checklist of required documents, and complete assistance from initiation to completion, thereby increasing your chances of obtaining a valid visa.
Mexican Tourist Visa Processing Time
When you opt to apply for a Mexico visa through our services, the processing time on our end is 30 days.
Nonetheless, the government's processing time can vary. To account for potential delays, it's recommended to submit your visa application at least two months ahead of your intended travel date, as our processing time does not encompass the government's timeline.
Requirements and Documents for the Mexican Visa Application Process
If you are an Indian passport holder planning a trip to Mexico, you will need to submit several documents to apply for a tourist visa. These documents include a valid passport that meets specific criteria, a passport-sized photograph that meets the government's requirements, a booked return or onward travel ticket, proof of financial means to cover your stay, and a credit or debit card for the visa application fee.
Your passport should have at least six months of validity beyond your planned departure date from Mexico, at least one blank page for your visa stamp or sticker, and should not have any visible damage or alterations. Your name on the passport must match the name on your other travel documents.
For the passport-sized photograph, it must be in colour with a white background, and your head should be facing straight toward the camera and fill the entire frame. Your eyes must be open and visible, and you should maintain a neutral facial expression with no smiling. Do not wear glasses or headgear, and the photograph must be sized at 45 x 35mm.
If you are travelling with minors, you will need to provide a copy of the unabridged birth certificate, court documents, or a death certificate if one of the minor's parents is deceased. The child and both parents must appear in person for the appointment, or you must provide a police affidavit confirming that the other parent has authorised you to apply for a visa and bring the child overseas. To ensure that you get the right picture that meets the requirements, use our convenient photo service
Other Categories of Mexican Visas for Indian Nationals
Besides the standard Mexico Tourist Visa, Indian citizens have other Mexican visa options depending on their purpose of travel:
The Mexico Business Visaenables attending trade exhibitions, conferences and business meetings in Mexico.
The Mexico Work Visagrants working rights in Mexico if you have a job offer from a local company.
The Temporary Resident Visa allows unlimited entry and stay for up to 4 years, eventually leading to permanent residence.
While the Mexico Tourist Visa can be conveniently obtained online, other visa types require applying directly at the nearest embassy or consulate in India. Each visa serves specific activities - tourism, business, employment and long-term stays. Indian citizens can choose the appropriate Mexican visa that aligns with their travel agenda and requirements.
What to do when your application process is denied
If your Mexican Tourist Visa application gets denied, unfortunately you cannot appeal the decision. Since the process does not accommodate appeals, you will need to reapply and repay the visa fees.
It is critical to ensure all visa requirements are fully met and information provided is accurate when applying. Using a visa service can help reduce chances of rejection by expertly guiding you through the entire application process.
In case of a denial, carefully review the reasons stated and rectify any application errors or shortfalls. Then submit a fresh application to make another attempt at securing approval. With careful attention to visa regulations and diligent reapplication, you can overcome an initial denial and still obtain your Mexican Tourist Visa.
Top things to do with the Mexican Tourist Visa
Mexico boasts an array of exciting activities to enjoy with your Mexican Tourist Visa. Here are five popular options:
Discover ancient ruins: Mexico is home to captivating ruins of former civilizations, like the Mayan pyramids of Chichen Itza and the Aztec Templo Mayor in Mexico City.
Unwind on picturesque beaches: With miles of stunning coastline, Mexico offers crystal-clear waters and soft sandy beaches. Popular beach destinations include Cancun, Puerto Vallarta, and Tulum.
ISLAS MARIETAS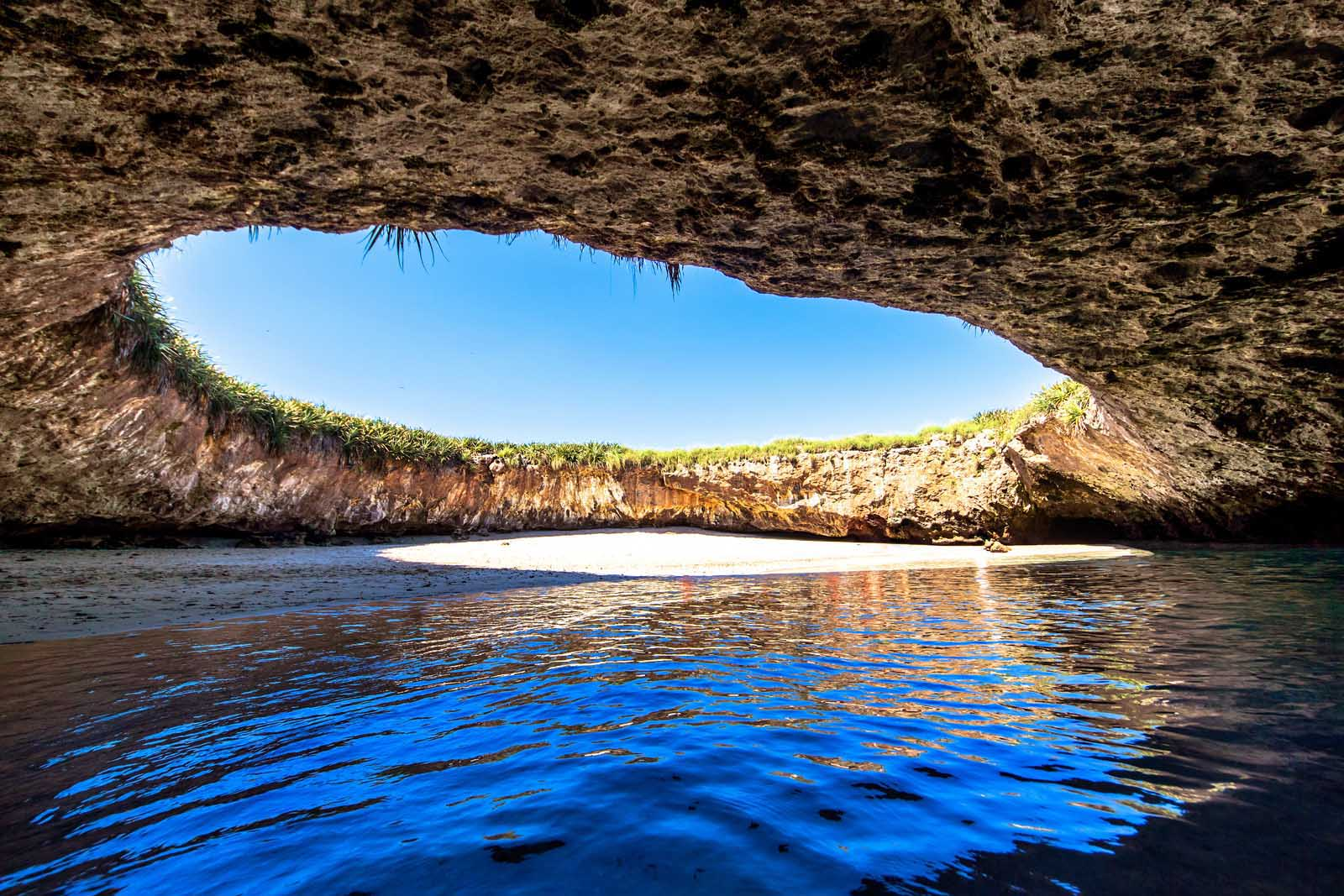 Savour authentic Mexican cuisine: Mexican food is recognized worldwide for its bold flavours and unique ingredients. From street tacos to mole, there are countless delectable dishes to try.
Explore lively cities: Mexico features numerous lively cities full of culture, history, and entertainment. Examples include Mexico City, Guadalajara, and Monterrey, each offering plenty to experience and explore.
Experience natural marvels: From the Copper Canyon to the cenotes of the Yucatan Peninsula, Mexico boasts many awe-inspiring natural wonders to discover. You can go hiking, kayaking, or simply take in the breathtaking scenery.
Customer Service Team
Should you need any assistance regarding Mexico Tourist Visa applications as an Indian citizen, please do not hesitate to contact us. Our customer service team is available to address any queries and concerns via online chat or email.
Whether you have doubts about Mexico visa requirements, application process, fees or any other details, our experts are happy to guide you. We are committed to providing seamless visa services and support at every step to Indian citizens seeking hassle-free Mexican travel. Please reach out to us for reliable information and assistance to make your visa application smooth and successful.
FAQS
Do Indian nationals need a visa to travel to Mexico?
Yes, Indian nationals need a visa to travel to Mexico. Tourist visas are issued for a maximum stay of 180 days.
Where can I apply for a Mexican visa?
You can apply for a Mexican visa at the Mexican embassy or consulate in India. You can also apply online through the Mexican government's website.
What documents do I need to apply for a Mexican visa?
The required documents for a Mexican visa application may vary depending on your nationality and the type of visa you are applying for. However, the following documents are generally required:
A valid passport that is at least 6 months valid beyond the intended stay in Mexico.
A completed visa application form.
A recent passport-sized photograph.
A round-trip flight ticket to Mexico.
Proof of accommodation in Mexico.
Proof of financial means to support yourself during your stay in Mexico.
A travel medical insurance that covers the entire duration of the stay in Mexico.
How much does a Mexican visa cost?
The cost of a Mexican visa depends on your nationality and the type of visa you are applying for. However, the standard visa application fee for Indian nationals is USD160.
How long does it take to process a Mexican visa application?
The processing time for a Mexican visa application can vary depending on the embassy or consulate you are applying at. However, it typically takes 3-5 business days to process a visa application.
What are the requirements for a Mexican tourist visa?
The requirements for a Mexican tourist visa are as follows:
You must have a valid passport that is at least 6 months valid beyond the intended stay in Mexico.
You must have a round-trip flight ticket to Mexico.
You must have proof of accommodation in Mexico.
You must have proof of financial means to support yourself during your stay in Mexico.
You must have travel medical insurance that covers the entire duration of the stay in Mexico.
You must fill out a visa application form and submit it to the Mexican embassy or consulate in India.
What is the validity period of a Mexican tourist visa?
The validity period of a Mexican tourist visa is 180 days.
Can I extend my Mexican tourist visa?
Yes, you can extend your Mexican tourist visa for a maximum of 180 days. To extend your visa, you must apply to the Mexican immigration authorities in Mexico.